Cover letter
Resume
Here's a link to my current resume:
https://1drv.ms/w/s!AkpaYfkZzPGqgYASg3HiqOFwR9FTqA?e=3O2IfX
Reference Letters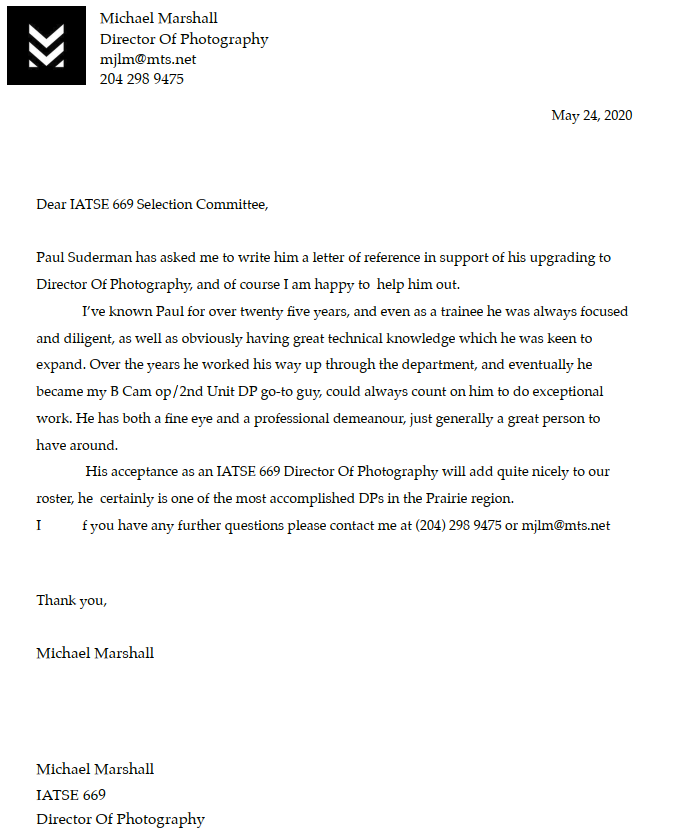 From Charles Lavack:
To Whom It May Concern:

It is my pleasure to be writing this letter of recommendation for Mr. Paul Suderman for consideration as Director of Photography, IATSE Local 669. Mr. Suderman worked as my camera assistant in various film productions. It was my pleasure to witness his evolution from camera assistant to camera operator and ultimately cinematographer.
In the past few years, Paul has been acting as second unit director of photography and director of photography on many productions. He has proven himself as an accomplished cinematographer for M.O.W's. Paul stays abreast of current technology & modern methodologies which is reflected in his innovative work.
I am confident that he has much to offer to the Prairie film community with his talent & upbeat attitude. During our conversations, Paul always came up with unique approaches in resolving various shooting challenges in a positive and efficient manner. He certainly will be an indelible asset to any production, and therefore I recommend him without reservation.
I would be more than happy to elaborate or answer any specific questions about Mr. Suderman, so please do not hesitate to contact me.

Yours truly,

Charles Lavack

Director of Photography, IATSE Local 669
Tel : 1-204-799-7410
Email : clavacktiltproductions@gmail.com
From Steve Morrison:
This letter is in support of Paul Suderman's application for Director of Photography with IATSE 669.
I have known Paul for over 20 years and he has proven time and time again that he is the ultimate professional with an immense talent for capturing the art of story telling on motion pictures.
Paul works well with all departments and is effective in creating beautiful dynamic pictures that work well for the project in art and budget.
Paul is an asset to any production anywhere in this world and represents 669 in an utmost professionalism and is an asset to the Manitoba community.

Paul would be an excellent addition to the Director of photography family.

Sincerely ,

Steve Morrisson

647-444-5455
Stevemorrisson@gmail.com
https://www.imdb.com/name/nm1286112/
www.cinesteviemo.com
Unaltered Video Clip
Here is the continuous 5-minute clip for review. This is from the movie Toys of Terror (2020).
Safety for Motion Picture Supervisors Course
Below is a downloadable link to the Certificate of Completion of the Safety for Motion Picture Supervisors Course.
Thank you!
Paul Suderman